Tai Chi & Qigong for Corporate and Workplace Wellness
Wellness Integration Ideas :
One-off class for a Wellness day
Team building activity session
Weekly classes (Monday lunchtime)
Corporate Retreat tai chi & qigong session
PD Day session
Staff Wellness Investment
Minimum charge 1 hour $250+ GST (Plus travel dependent on location)
Up to 25 staff/employees
For larger corporate retreats and PD days please contact Tamara for a quote.
Is there a place for Tai Chi in the work place?
The WHO (the world health organisation) listed stress at work to be one of the top 10 factors causing poor health around the globe.
The latest Workplace Wellness Report (2019) shows a net 23.5 per cent of surveyed businesses reported their staff were more stressed than before.
Absent employees cost the New Zealand economy $1.79 billion in 2018, up from $1.51 billion in 2016.
It's estimated around 38 per cent of the world's workers are suffering from excessive pressure on the job." Well-being programmes for companies are designed to promote healthier, happier, more productive workplaces, and to cut absenteeism.
So the question is, is there a place for tai chi in the work place? An evidence based answer is yes, there is certainly a need to address stress and general health and well-being in the work place.  
Workplace Stress ...
Workplace stress on the rise, new survey says
22 Aug, 2019      nzherald.co.nz
The latest Workplace Wellness Report also shows a net 23.5 per cent of surveyed businesses reported their staff were more stressed than before.
It also shows absent employees cost the New Zealand economy $1.79 billion in 2018, up from $1.51 billion in 2016.
Southern Cross chief executive Nick Astwick said workplaces were investing more in helping their staff become resilient.
 "A lot of employers now are looking at the human, not just the employee," he said.
"People that are more resilient and more flourishing in their home life are actually more resilient to the work pressures.
"Yes, while work pressure is a demand, if you look after the human, invest in their resiliency, the work pressure doesn't be as prevalent."
More workplaces were starting to focus on resiliency by bringing in more "wellbeing" measures.
This included free flu jabs and health checks, paying specialists and clinicians to come into the office, providing health plans, and allowing "flexible" working.
Workplace stress: Why we need to tackle increasing pressure
8 Jul, 2018       nzherald.co.nz
The latest two-yearly Wellness in the Workplace report revealed a marked increase in workplace stress in New Zealand. A net 22.9 per cent of employers noted an increase in stress/anxiety and for larger companies, according to the 2016 survey, sponsored by Southern Cross Health Society and Business NZ.Jul 8, 2018
General workload was found to be the biggest cause of stress in all businesses in 2016.
The research found despite more businesses encouraging people to take time off when ill, on average more than 40 per cent of staff turned up sick.
Workplace absence cost the economy an estimated $1.51 billion in 2016.
And in March, the Mental Health Foundation surveyed mental health and wellbeing in 335 New Zealand workplaces.
"From this survey we found that high workloads, poor work life balance and stressful work were the top three causes of poor mental health in the workplace," says chief executive Shaun Robinson.
Productivity and workplace relations suffer when workers are stressed, Eatwell says.
"Some research on the impact of culture and performance suggest the impact is about 30 per cent. Those companies who have a positive culture perform 30 per cent higher than those with a negative culture."
When people do not switch off or take breaks, they slow down.
Jess, who will run corporate workshops on dealing with workplace stress, teaches "tired, wired" clients how to be able to switch off.
 "There is so much at stake when health and wellbeing are not prioritised. It sends a ripple effect into our careers, families, and general life satisfaction.
Benefits for your Workplace
Healthier more energized staff
More effective communication
Improved group dynamics
Increased flexibility
Greater balance
Cost effective
Reduced stress
Reduced absentees
Mind and Body integration
Can be practiced by anyone and everyone
Programme designed by experts in tai chi and work place management
Core Tai Chi Principles for the Workplace
Controlled breathing
Posture
Situation awareness
Focus
Flow
The  philosophy of tai chi can be applied to all aspect of daily work life.
A tai chi  movement has a 3 stage structure:
Listen or sense the incoming energy (force) or situation.
Bring the energy (force) closer to develop greater understanding and control.
Deliver a balanced and effective solution.
Tai chi in in the workplace is a simple an effective  wellness tool!     
"We would highly recommend Tamara from Smiling Dragon Tai Chi for any corporate or team activity as a wonderful wellness option. Our 30 team members enjoyed this unique and fun experience.  With Tamara's clear and calm instruction this gentle movement activity was accessible to all .    It was great to get outside, get our feet on the grass and enjoy the natural surrounds. It definitely helped alleviate the after lunch slump in our conference – with everyone returning looking more relaxed, with a smile on their faces.    Due to the appeal of Tamara's activity we are going to book in the "Breathe" experience in our office as a follow up to help staff with Mindfulness and Wellbeing."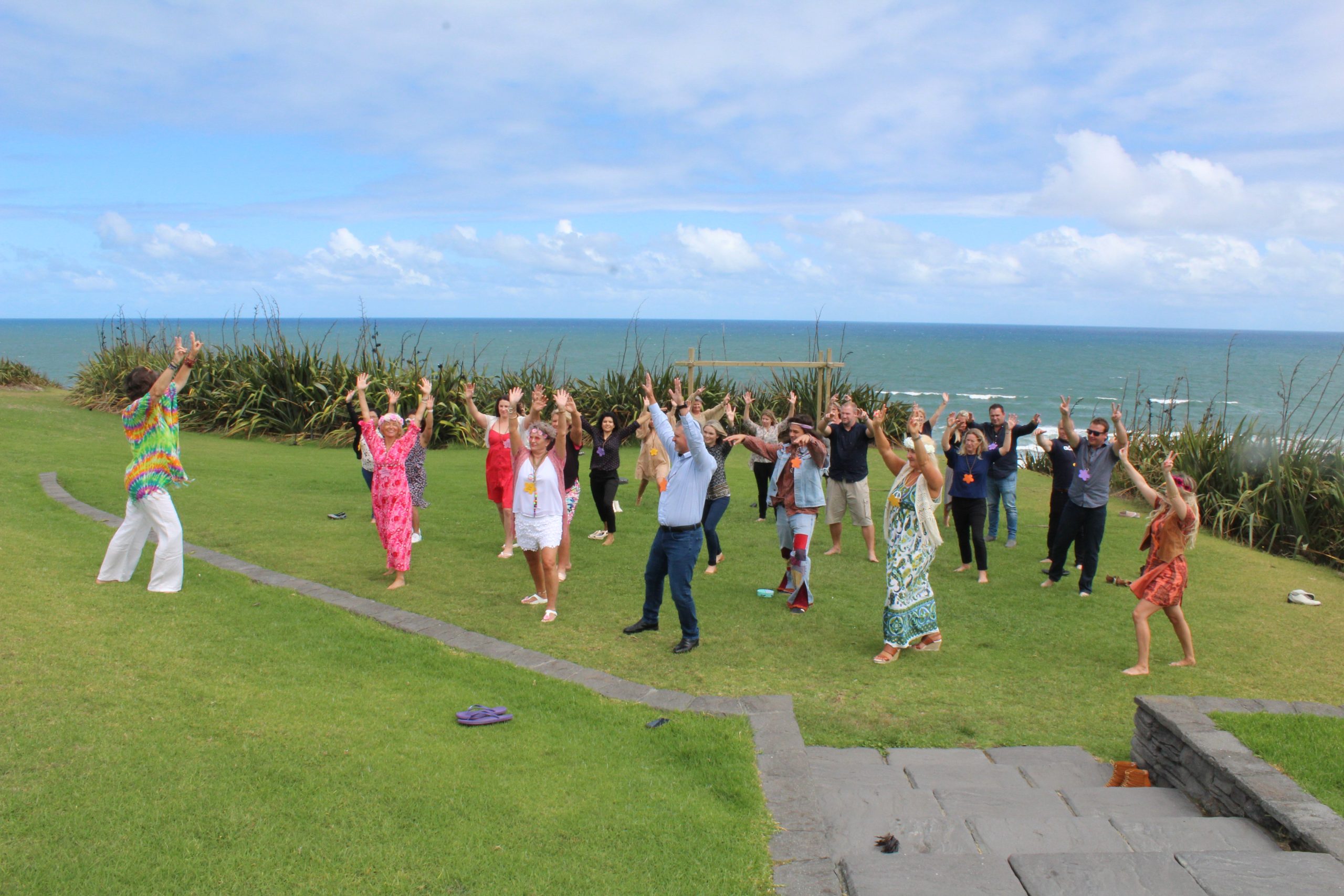 Dr Paul Lam's program aims to provide a simple and flexible set of tai chi movements to integrate into daily work practices. This program is designed to enhance employee health and productivity and be cost effective for any company or work place.
Tai Chi @ Work is designed to manage stress more effectively. It will improve the overall effectiveness at the workplace, as well as leadership and teamwork at an individual level. By learning the program experienced tai chi practitioners can expect to improve their tai chi by incorporating the three key tai chi principles into the forms from three tai chi styles. The program is non-competitive, non-judgmental and an enjoyable activity that an individual can do by oneself as well as a team together. It is very different from most things we do daily so it is refreshing. It enhances the individual or team's productivity as well as each member's personal growth.
How does it work?
The essential principles of tai chi were derived from a deep understanding of nature. The law of nature provides the secret to strengthen your mental and physical self, so that you can deal with the world and the people around you more effectively. Just as it is faster to swim with the current rather than against it – working with the power of nature is more effective than against it. Likewise listening and working with other people is more effective than arguing and fighting against everyone. 
Tai Chi @ Work captures the core of tai chi philosophy and integrates it with a simple set of movements that incorporates three levels of awareness. The practice of the movements will enhance awareness which in turn incorporates this philosophy.
A significant bonus is that tai chi has been shown to improve mental and physical health. Studies after studies demonstrate that a healthier person is happier and more productive. A person with better work/life balance is a greater asset to the employer. Studies have shown that wellness programmes in the workplace profited the employer. For example, Coca Cola reported a saving of $500 per employee per year in health-care claims after they introduced a wellness program into their company. Continental Airlines reported a 45% drop in the cost of workplace injuries in less than 2 years of establishing a workplace wellness program. 
For More information
Contact: Master Trainer Tamara Bennett
021-255-1087